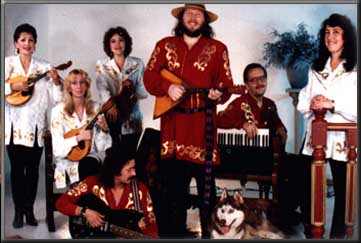 Woodstock welcomes Russian folk ensemble's first U.S. tour



Chicago Tribune Friday, October 10, 1997
By Michael Parrish



Grenada, a sextet from Russia who will be appearing at Woodstock's Mast House Saturday night, is not a typical folk ensemble. Although they emphasize Russian, Ukrainian and Belorussian songs, the group performs popular and traditional music from around the world.

Bandleader Sergei Vladimirsky plays 374 instruments. "My first instrument was a mandolin, a gift from my father on my fourth birthday. I attempted to play something on it right away and, to my surprise, I succeeded." Moving on to piano, he kept learning new instruments, and his continuing musical education has become part of the group's shows: "I challenge the audience to test my ability to play any instrument they might bring. People bring all kinds of exotic instruments which are not easy to play impromptu. But I manage to do it, and a large part of my collection consists of instruments that I won at concerts." Vladimirsky's wife, Tatyana, who has a doctorate in history of music, hosts the shows, and plays guitar and percussion.

The remaining musicians play bass, keyboards, mandolin, and guitar, doubling on more exotic instruments. They expect to bring about 50 instruments, ranging from balalaikas and guitars to rare Russian folk pieces like the sharkunki (shuffler) and treshotki (lamellar rattle). In Russia, the group instructs and organizes a youth ensemble made up of 150 children and teens who would otherwise have no opportunity to study music. "The classes are free of charge, so anyone can join."

Although the group has performed widely throughout Europe, Canada, and South America, this is their first visit to the U.S., sponsored by Ohio's Crosscurrents International Institute. Exactly what the Woodstock audience will hear will be decided during the show. As Vladimirsky put it, "We play what we like, often improvising during the concert and involving the audience in making the music." Grenada performs a children's show at 4p.m. Saturday and a regular show at 8 p.m. Saturday at the Mast House, 538 E. Calhoun St., Woodstock. Phone 8I5-338-W1I.