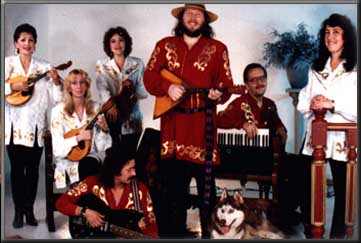 Russian group in festival line-up


The Oban Times, May 20, 1999

RUSSIAN culture is set to hit the Highlands as part of the Highland Festival. In the two previous years, Highland athletes, dancers, pipers, musicians and craftworkers have taken part in the first Highland Games and Scottish/Russian folk festival to be held in Moscow.

But this year the Moscow Family Group will be bringing their traditional music from around the world to the Highlands. Leader Sergei Vladimirsky is something of a legend in Russia and is in the Guinness Book of Records as the world's leading multi-instrumentalist Sergei, who can play 374 instruments, said: 'I challenge the audience to test my ability to play any instrument they might bring. Surely a challenge to the people of the Highlands!'

The group is, however, expected to bring around 50 instruments with them, from balalaikas and guitars to rare Russian folk instruments. The group will be performing in Marco's Leisure Centre, Fort . William, on May 27 and in Mallaig Hall on May 28. There will also be a special outdoor show in Inverie in Knoydart on May 29.